James 5:13-20 commentary:
Introduction
Prayer gives believers access to unlimited power to do extraordinary and unimaginable things.
From granting us succor during painful moments to physical healing from sicknesses and the forgiveness of sins, prayer is a powerful tool in the hands of Christians to perform miracles.
The end of the Book of James gives us insights into the beauty of prayer and the blessing of turning a backslidden Christian back to God and the path of righteousness.
The power of prayer
"13 Is anyone among you suffering? Let him pray. Is anyone cheerful? Let him sing psalms. 14 Is anyone among you sick? Let him call for the elders of the church, and let them pray over him, anointing him with oil in the name of the Lord." (James 5:13-14)
James 5:13 gives an interesting take on how a Christian should respond and act when suffering and cheerful. The verse begins by asking a question about what to do in times of suffering and providing an answer to it.
Ordinarily, people respond to suffering by crying and seeking solutions. However, Christians must respond to pain, suffering, and uncertainties with prayer because our help comes from the Lord.
Jesus says those who labor and are heavily laden should come to Him and receive rest (Matthew 11:28–30).
This rest can be obtained when we seek God's help in prayer.
Murmuring, complaining, anger, and self-pity will only multiply our troubles. However, prayers to a God who heals the brokenhearted and binds up their pain will bring healing and comfort (Psalm 147:3).
Verse 13 also encourages those who are cheerful and happy to sing psalms.
Psalms are sacred songs of worship, praise, thanksgiving, and prayer unto God. It's a call to God's elect to not focus only on the challenging moments but also on the goodness of God.
Often, we tend to forget the blessings of the Lord, especially during suffering.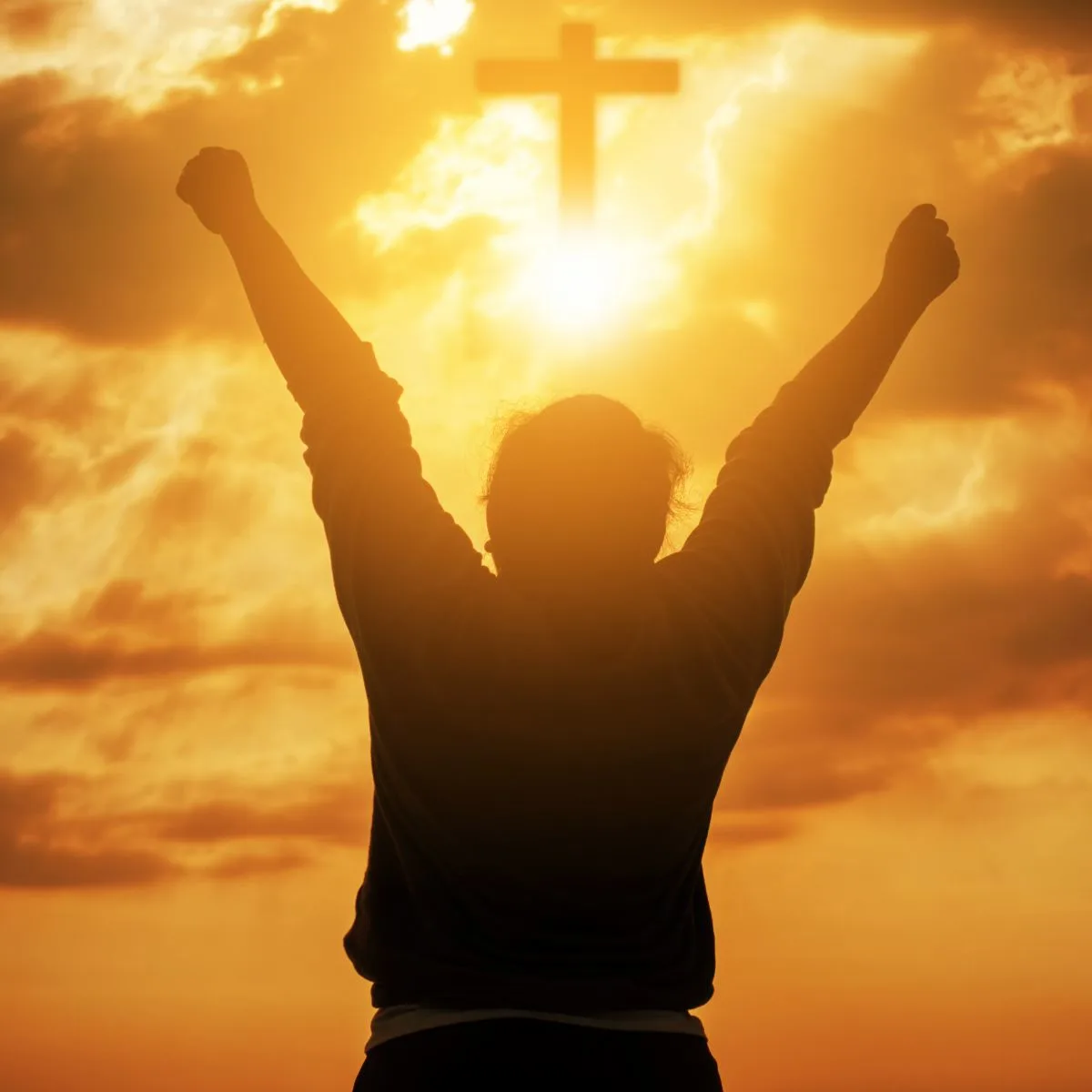 No wonder Psalm 103:2 says, "Bless the LORD, O my soul, and forget not all His benefits." The psalmist compels his soul to bless God and recall all the great things He has done in the past.
Verse 14 highlights the power of prayer in healing sickness.
It encourages the sick to call the elders of the church for prayer and anointing with oil in the name of the Lord.
This reveals the power of corporate prayer in facilitating healing and the importance of the anointing oil.
Elders are believers deep in the knowledge of God and serve as spiritual leaders and mentors in the church (Acts 15:1-2, 1 Peter 5:1-4, Hebrews 13:17, Acts 6:2-4).
Anointing the sick is a normal practice among the disciples of Christ. "And they cast out many demons, and anointed with oil many who were sick, and healed them" (Mark 6:13). The anointing oil is usually prayed upon so the power of God enters into it, sanctifies and blesses it (Exodus 30:22-33).
Anointing the sick must be done in the name of the Lord, an authority demon and sicknesses bow to (Philippians 2:9).
Prayer of faith
"And the prayer of faith will save the sick, and the Lord will raise him up. And if he has committed sins, he will be forgiven. 16 [a]Confess your trespasses to one another, and pray for one another, that you may be healed." (James 5:15-16a)
A prayer of faith is said with complete confidence in God's ability to grant our hearts' desires.
It is done without fear or doubt.
Jesus emphasized the power of faith when asking God for something.
He said those with faith as small as a mustard seed will command the mountain to move, and it will obey (Matthew 17:20-21).
That is to say, we can achieve the impossible if we apply faith. Therefore, when praying for the sick, faith is needed for healing and to propel them to rise from the sick bed.
However, praying the prayer of faith involves acknowledging that God has the final say.
So, while we pray for the sick to rise, they might not get well or die. However, that doesn't invalidate our faith or God's power but shows God's sovereignty and the need to keep trusting God even when we don't get what we want.
Jesus prayed in the Garden of Gethsemane for His impending torture and crucifixion to be rolled away, but He still maintained that let God's will, which is for Him to be bruised, pierced, and nailed to the cross, come to pass (Luke 22:42)
The second part of verse 15 shows the power of prayer in forgiving sin and the link between forgiveness of sin and healing.
During Jesus' ministry, He demonstrated that sin can cause sickness when he healed the paralyzed man (Luke 5:17-26).
Instead of touching the paralyzed man, Jesus said, "Friend, your sins are forgiven."
And he became whole immediately.
Interestingly, Jesus was inspired to forgive his sin and heal him because of the faith of the paralyzed man's friends, who, above all odds, brought their sick friend to where Jesus was. Therefore, prayer, faith, and forgiveness of sin are crucial for healing.
James 5:16a also reveals that confessing sins or wrongs against fellow brethren and praying for one another can bring healing.
Sometimes, we bottle in so much hurt, pain, malice, and unforgiveness in our hearts.
This can cause emotional pain or sickness.
Here, the Bible recommends confessing our sins against one another to each other and praying to gain total healing.
Prayer of the righteous
"The effective, [b]fervent prayer of a righteous man avails much. 17 Elijah was a man with a nature like ours, and he prayed earnestly that it would not rain; and it did not rain on the land for three years and six months. 18 And he prayed again, and the heaven gave rain, and the earth produced its fruit." (James 5:16b-18)
Jesus said only those who forgive those who wrong them receive God's forgiveness (Matthew 6:14-15).
After we forgive, God forgives us, and then we become righteous.
God answers the prayers of holy people because they are close to God's heart (Isaiah 59:1).
James wrote that the fervent prayer of the righteous man avails much.
The fact that we are righteous does not mean that we will not persist in the place of prayer. 1 Thessalonians 5:17 commands us to pray without ceasing.
James used Elijah as an example of a righteous man who prayed earnestly.
Elijah decreed that there would be no rain in 1 Kings 17:1, and it was so. However, when he wanted to reverse the decree in 1 Kings 18:42-45, Elijah prayed seven times for rain to fall before the sky grew black with clouds and rain began to fall.
We should not give up on the place of prayer when praying according to God's will but persist until we get our answers.
To experience fruitness, we must be set apart from God and pray fervently.
We must remember that God sits in heaven and does as He pleases, so your righteousness is not an automatic license to answered prayers (Psalms 135:6).
The same Elijah who prayed seven times for rain to fall from above prayed only once and fire fell from heaven (1 Kings 18:38-39). However, Romans 8:28 says, "And we know that all things work together for good to those who love God, to those who are the called according to His purpose."
The blessing of saving a soul
"19 Brethren, if anyone among you wanders from the truth, and someone turns him back, 20 let him know that he who turns a sinner from the error of his way will save a soul from death and cover a multitude of sins." (James 5:19-20)
James ends his message with a profound admonishment.
He encourages believers to watch each other's back and protect their faith. He must encourage those who backslide and do everything possible to save them from sin.
The Bible talks about how vital a soul won to Christ is to God's kingdom.
The angels in heaven throw a big party to celebrate a soul won (Luke 15:7).
Conversely, heaven will have sorrow over a lost soul. Therefore, heaven is counting on all of us to help people find their ways again and snatch them from the claws of darkness.
Many Christians spend most of their time mocking those who have lost their faith instead of praying for them and doing their best to restore them to God.
Jesus taught us about the value of a lost soul and the extent God can go to find them in the parable of the Lost Sheep, where the shepherd left ninety-nine sheep behind just to look for one missing sheep and celebrates after finding it (Matthew 18:10-14, Luke 15:1-7). Every soul is precious to God.
The danger of a backslidden Christian wandering alone is that they become susceptible to the enemy's attack.
1 Peter 5:8 says, the devil walks about like a roaring lion, seeking whom he may devour.
Being alone is dangerous.
Therefore, we save a soul from death and sin if we go after them and bring them back to the feet of the Father.
READ THIS NEXT:
What Do Peaches Symbolize In The Bible?
The most beautiful woman in the Bible